The Rohingya – An Open Letter to Canadian Policymakers
By Jay Heisler
Late last year I was given an exciting opportunity to work on an incredible book project, helping to copyedit translations of Rohingya folk tales gathered in a refugee camp in Bangladesh. The book, "Rohingya Folktales: Stories from Arakan, as told by Rohingya refugees," was published this year. Suddenly I found myself in daily contact with refugees in the Bangladesh camp in Cox's Bazar. I, like anyone would do, tried to find the book's author, Mohammed Rezuwan Khan, refugee status in Canada, in order to fulfill his ambition of being a journalist. Mohammed, in his words, "is already doing some journalism in the refugee camp where he lives, as much as he can do to help Rohingya genocide survivors."
 
Together we realized that this is such a challenging and opaque process that it defies belief. The Bangladeshi government has still not issued passports to many Rohingya refugees, including Mohammed, and they often are passport-less and unable to travel. Meanwhile the Rohingya population of Canada is shockingly low for a nation that prides itself in accepting refugees from around the world. A friend who is a graduate student at famously diverse York University in Toronto says he knows of only one fellow student who is Rohingya, now around half a decade since the genocide began. Rohingya refugees living in Canada have told me that part of the problem is not just that the Bangladeshi government has not issued passports, but also that it has not issued exit visas to those who have passports.
 
Now, I am no expert on the Rohingya crisis or on refugee law in Canada, however, I did do part of my MA research on Myanmar and I currently work as an intelligence analyst in private intelligence for Oxford Analytica. In my opinion as an intelligence analyst, it is extremely unlikely the Rohingya will be able to return to Myanmar anytime soon. The nation is seeing militia violence after a coup this year and clearly is not on a path to greater stability and peace. Returning the Rohingya to Myanmar is the whole reason the Bangladeshi government has given for keeping them in the country. Meanwhile some Middle Eastern countries also hosting Rohingya populations want to deport them to Bangladesh! The world is turning its back on the Rohingya, stalling for time in the name of returning them to homes which seem farther away than ever.
 
I am aware the Canadian government has offered to take more Rohingya refugees, but has been hamstrung by the Bangladeshi government policies. However I believe in policy innovation and I believe something that sets the Canadian public service apart is its dedication to policy innovation. Clearly something can be done here to make life more livable for the Rohingya living in Bangladesh, by moving as many as we can to Canada through ways that can be found to get around the rules imposed by the Bangladeshi government.
 
I have also spoken with Osman Goni, a photographer living in the same camp. Osman has shared stories of grief and horror from the camp, including deadly floods and a desperation that is palpable among all living there. I have worked in Southern Sudan and wartime Iraq, and I have never seen this kind of desperation. The psychological violence, of what amounts to effectively shantytown containment camps for a people who escaped a real genocide, appears to be unlivable. Living here in the West we seem to have chosen to ignore it and to move on. Well, I ask that Canadian policymakers take another crack at the issue, or we will all sit in judgment when the numbers of Rohingya in Canada are highlighted as signs of a policy choice and not a policy challenge.
 
To round out this letter, the most important part! The words of these refugees themselves. Osman Goni wanted me to mention that he is searching for an opportunity to complete his graduation. He longs to work in education or to be a photographer. He takes photographs of life in his refugee camp on his phone as he does not have a camera.
 
Mohammed Khan says, about being a journalist: "After all, journalists are very needed for the Rohingya community. For me, being an exiled Rohingya, there is no source of learning higher education both in Myanmar and Bangladesh.  After graduation, I would throw my energy to work for the betterment of my Rohingya people, our country and our world. Finally, ending the deprivation of education among the Rohingya community is an essential element of the solution to the crisis from which they have been suffering for so long. On the other hand, the knowledge of journalism can be a weapon for me to show and tell the international community about my Rohingya people who have been subjected to many civil rights abuses in Myanmar."
 
Zainab Arkani lives in Canada and helps refugees find their way to Canada. Just last week she met with Bob Rae, the Canadian Ambassador to the UN, in her effort to get Bangladeshi authorities to issue an exit permit. Zainab says, "The UN chooses the most vulnerable people and submits to countries whoever wants to sponsor refugees. And once approved, the UN again asks the host country to let that refugee go from that host country. If the host country says no, the UN or the sponsoring country couldn't do anything" (spelling corrected).
 
Is Canada going to continue to throw up its hands and say it has done all it can? It is clear the situation calls for more.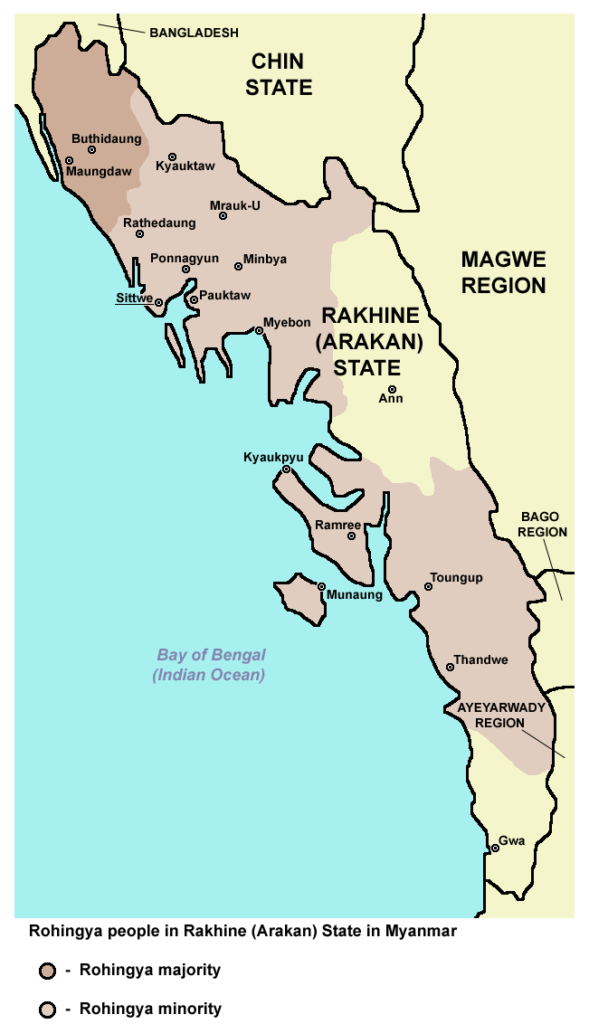 (Both images are from Wikipedia Commons)
This work is the sole opinion of the author and does not necessarily represent the views of the Canadian Armed Forces, the Canadian Department of National Defence, the Royal Canadian Mounted Police or the Royal United Services Institute of Nova Scotia. The author may be contacted by email at: [email protected].