Distinguished Speakers 19 May 2021 – Arctic Air Operations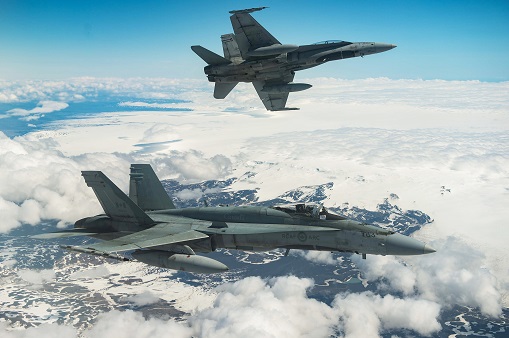 RUSI(NS) and NORAD and USNORTHCOM will host Colonel David Moar, RCAF, Commander 4 Wing; and Colonel Micah Fesler, USAF, 140th Wing. The topic of their presentations is "Arctic Air Operations: Canada and United States Agile Fighter Employment in Defence of North America."
NORAD and USNORTHCOM has "The Watch" and stands ready to defend our homelands and protect the populations of the United States and Canada every day. NORAD is the crown jewel of Canada-United States (CANUS) Defense Cooperation. After 60 years, NORAD remains the only binational military command in the world. Throughout 2020, NORAD intercepted 14 Russian military aircraft entering CANUS Defense Identification Zones (ADIZ) – the most post-Cold War intercepts since 2012, when Russia annexed Crimea from Ukraine. In response, NORAD has conducted dozens of exercises and patrols including ARCEX, ARCTIC WARRIOR, AMALGAM DART and NOBLE DEFENDER to execute dynamic force employment operations that bring to bear the full, scaled range of NORAD capabilities into the Arctic. These presentations highlight NORAD Arctic air operations and the close bi-national cooperation between the Royal Canadian Air Force and United States Air Force in conducting agile fighter deployment in defence of North America.
Guests are welcome.  Registration is required.   To register, email RUSI(NS) by close of business Sunday, 16 May. As the subject line for your registration email, put: RUSI(NS) Distinguished Speakers 19 May 2021 Registration. In addition to your name please provide your organization.
The event will be done by Zoom.  Instructions will be emailed to registrants by end Monday, 17 May.
RUSI(NS) events may be cancelled at short notice.  Email RUSI(NS) if there is a question about an event occurring.