Cruise Ship Fights Maritime Patrol Ship (and Wins)
A strange story out of Venezuela.  A Portuguese-flagged polar expedition ship claims a Venezuelan Coast Guard patrol ship fired shots to force it from the high seas into Venezuelan territorial waters and, failing in that, attempted to ram it.  With the patrol ship damaged, sinking, still firing rounds but not responding to radio communications, the cruise ship claims it reported the incident to Curacao authorities and was given permission to depart the area.  Venezuela says the cruise ship criminally rammed its patrol ship, sinking it, and "cowardly" didn't remain at the scene to rescue survivors (all 44 sailors lived).
Notwithstanding stories of the cruise ship having 160 mercenaries embarked with intentions of invading Venezuela, statements and vessel damage suggest Venezuela's offshore patrol vessel (OPV) ANBV NAIGUATA (GCG-23) attempted a high seas arrest of the Portuguese-flagged cruise ship, RGCS RESOLUTE on 30 March 2020.  In the first attempt, the OPV fired warning shots while ordering the cruise ship to sail to Puerto Moreno on Isla De Margarita in Venezuelan territorial waters.  When that failed, the OPV appears to have played a bold game of "chicken," overtaking and blocking the oncoming cruise ship's path in a "dare" to drive over the OPV.  The cruise ship (possessing Lloyd's highest ice rating "1AS") obliged them.  The 1700 ton OPV, delivered to Venezuela in 2009 for $350 million and equipped with a communications intelligence suite, helo flight deck, close-in weapon system, and a 76mm deck gun, initially survived the collision but sank during return to the port of Caracas.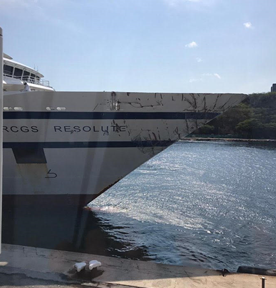 The Portuguese-flagged polar expedition cruise ship is registered to "Bunnys Expeditions" (a small Bahamas-based company with several hundred other registered businesses) but is allegedly owned by Canadian firm "One Ocean Expeditions," a company in serious financial trouble that was reported in January to be preparing for bankruptcy filing but never did.  The cruise ship claims it was en route to Curacao (Dutch Antilles) but was drifting outside Venezuelan territorial waters due to engineering problems, which were repaired by ship's company shortly before arrival of the Coast Guard vessel
RGCS RESOLUTE is currently alongside Willemstad Curacao for an imposed 14-day COVID-19 quarantine period.  Venezuela has issued diplomatic notes to the Netherlands seeking cooperation (authority to board the cruise ship).  Meanwhile, the USA has announced it is deploying two warships to the area to conduct "anti-drug patrols".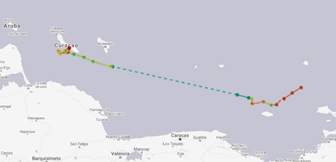 This work is the sole opinion of the author and does not necessarily represent the views of the Canadian Armed Forces, the Canadian Department of National Defence, the Royal Canadian Mounted Police or the Royal United Services Institute of Nova Scotia. The author may be contacted by email at: [email protected]